Achieve Your Climate Goals in Just 3 Steps
Track your Suppliers emissions
Gather information on the emissions generated by your suppliers, identify any areas where improvements are needed, and precisely locate the sources of high emissions within your supply chain.
Achieve Science-based Targets
Guarantee the implementation and ongoing monitoring of engagement targets aligned with the Science Based Targets initiative (SBTi) to ensure impactful climate action within your supply chain.
Product Carbon Footprint
Monitor the emissions associated with the goods and services you procure to accurately calculate the carbon footprint of your products.
How Nimbus helps you achieve your goals
Having a comprehensive grasp of the baseline emissions within your supply chain is essential for formulating practical decarbonization strategies, implementing effective emission reduction measures, and setting ambitious targets. With Nimbus, you can effortlessly gather emissions data encompassing Scope 1, 2, and 3 from your suppliers, gain valuable insights into their mitigation endeavors and targets and also track upstream emissions resulting from the procurement of goods and services.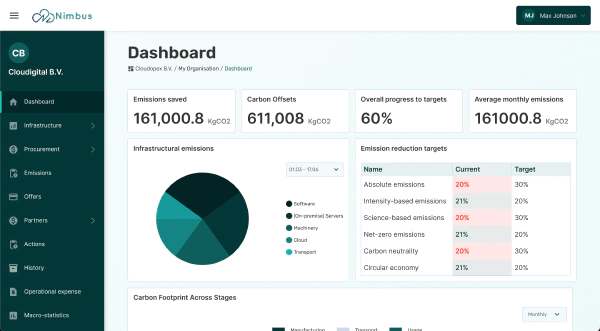 Benefits of using Nimbus
Nimbus offers a powerful solution that enables companies to assess their suppliers' carbon footprint and track the life cycle emissions of their products, from these they can take proactive steps to mitigate environmental impact and work towards their engagement targets set by the Science Based Targets initiative (SBTi). Nimbus empowers you to take tangible steps towards a sustainable future
1.

Data collection for compliance with climate regulations

2.

Identification of gaps and emission hotspots in your supply chain

3.

Foundation for credible climate action and target setting

4.

Implementation and monitoring of SBTi supplier engagement targets

5.

Partner offering for GHG emissions measurement, accounting and reduction.
4 Easy Steps to ensure a carbon-neutral supply chain.
If you'll like to get valuable insight on vital strategies to set up a sustainable procurement system in your business, click on Strategies for setting procurement systems and get your business going on the right footing.
Understand
Enhance the transparency of emissions along your supply chain.
Avoid and Reduce
Leverage your suppliers to significantly cut your carbon footprint
Compensate
Offset unavoidable GHG emissions through certified climate protection projects
Communicate
Inform customers, investors and employees about your climate actions.
Monitor and Reduce Your Carbon Footprint
Take Control of Your Environmental Impact Today!
Set up Quick Chat